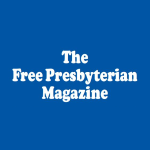 Sin is a fundamental fact in this fallen world. We meet it everywhere; everyone is continually coming short of the glory of God. And if we were more self-aware, if we looked at ourselves in the light of the lamp which is the Word of God (Ps 119:105), we would see more clearly how much we are coming short of that perfect standard which God, our Creator, has laid down for us. Our sin is a serious matter; in one degree or another, the sinner is rejecting God's authority, and a holy God must treat sin seriously; He must punish sin. And "it is appointed unto men once to die, but after this the judgement" (Heb 9:27). Matthew Henry's Commentary states that it "is matter of comfort to the godly that they shall die well and die but once". But it is impossible for those who continue ungodly to die well; they must face the second death – eternal separation from God in hell, a separation from every last degree of blessing.
Yet no one who is still spared, not yet sent away to a lost eternity, has any right to despair. For there is a Saviour from sin and from its consequences; God has revealed that "Christ Jesus came into the world to save sinners" (1 Tim 1:15). Here is good news in a lost world, where "the wages of sin is death" – particularly eternal death. Yet it may be a real question for sinners who have been brought to realise the guilt and the evil of sin: Is this Saviour suitable for me in my need?
Clearly, if the answers to such a question are to have any authority, they must come from the Bible. Let us note three scriptural answers:
1. The Saviour was appointed by God. John, inspired by God the Holy Spirit, testified "that the Father sent the Son to be the Saviour of the world" (1 Jn 4:14). If sin is against God, it is He who must provide the remedy. That is what He has done, and the Saviour whom God the Father sent in His infinite wisdom is suited to the needs of sinners throughout the world.
2. He can function as a mediator because He is both God and man. The mediator must be man, having the same nature as those who have sinned, so that He can represent them before God. And He is truly man, with a real body and soul. On the other hand, He must be God. Thomas Boston gives two reasons: "(1.) That He might be able to bear the weight of the infinite wrath of God due to the elect's sins and come out from under that heavy load (Acts 2:24). (2.) That His temporary sufferings might be of infinite value and afford full satisfaction to the law and justice of God (Heb 9:14)" (Works, Aberdeen, 1848, vol 1, p 385).
3. As God and man, He finished the work that the Father gave Him to do. He stood in the place of sinners; He suffered the full punishment that was due to them; and He kept the whole law as their Substitute. While the Saviour was engaged in the work of salvation, we hear the Father saying, not only at His Baptism, but also on the Mount of Transfiguration: "This is My beloved Son, in whom I am well pleased" (Mt 17:5). The Father was well pleased with the perfect Person of His Son and with the perfection of His obedience. It was the sins of those whom He was representing that brought Him to the grave, and His resurrection from the dead on the third day showed that these sins had been borne away – God accepted Christ's work as a firm foundation for the salvation of sinners. Accordingly He is indeed a suitable Saviour for needy sinners.
Thus all may accept that Christ is a Saviour suited to them in particular. He came into the world, as we have already noted, to save sinners. So it is sinners, as such, who are called to come to Christ for salvation – to believe on Him, to trust in Him. He does not call sinners of specific kinds, not even sinners who have been convicted to a specific degree.
Yet it is true that people will not come to Christ unless they have been convinced of sin. But we are not to make conviction a kind of qualification for coming to Christ; people do not come to Christ on the basis that they are convinced sinners – it is a matter on which they are not competent to judge. They come to Christ as sinners, for it is as sinners He calls them.
Some people may think that they would be free to trust in Christ if they had not committed particular sins. But when Paul wrote that Christ had come into the world to save sinners, he added that he himself was the chief, the one who had sinned most seriously. So, since Paul the persecutor was saved from his sins, no one ought to consider themselves out of reach of salvation. After all, what sin can be more serious than to reject Christ? No doubt the most serious element in Paul's persecution of believers was to reject Christ and His claim to be the Saviour of sinners. Paul, so familiar with the prophecies and ceremonies which spoke of the coming Messiah, rejected Him; yet the men of Sychar, who had so much less teaching, received Him readily as "the Saviour of the world" (Jn 4:42).
We have already noted that phrase in 1 John 4:14: "And we have seen and do testify that the Father sent the Son to be the Saviour of the world". When Boston was applying the truths he had expounded from this verse, he told his hearers:
Behold here a broad and firm foundation of faith for all and everyone of you . . . you may come to Christ, whatever your case is and claim His righteousness and His whole salvation for yourselves . . . you may betake yourselves to Him as a refuge appointed for you by the Father, from sin and wrath, with as much freedom as a stung Israelite might have looked to the brazen serpent . . . you may wholly trust on Him that He will save you from sin and wrath. For He was sent by the Father [to be] Saviour of the world.
And if by the Father's appointment He is Saviour of the world, He is by office your Saviour and my Saviour, [note that Boston does not imply that Christ died for everyone he was addressing; the words, "by office" (that is, He is the Saviour appointed for them as sinners), qualify what follows – as the series of illustrations which he then gives makes clear] since we are members of the world of mankind; so . . . we may by faith claim His saving us from sin and wrath – as a scholar bred in a place may claim teaching [from] him who was appointed master of a free school in that place; as those of a congregation may claim preaching [from] their own minister; and as the wounded in battle may claim healing [from] their own physician, [who has] a commission to be physician to their regiment. (Works, vol 6, p 301-2).
These are striking illustrations, perhaps especially the last. The physician or surgeon attached to a regiment in the army has been appointed for all the soldiers in that regiment. If they are wounded, they do not need to ask if he has been appointed for them in particular; that is already clear because he has been appointed for the whole regiment; they need no further authority to go to him. So, Boston argues, since Christ has been appointed the Saviour of the world, every sinner who hears the gospel is free to go to Him for salvation. Indeed it is the sinner's duty to do so; to reject Him is a very serious sin.
The unconverted sinner might further ask, Am I among the elect? It is a question that no one in this world can answer. We cannot ascend to heaven in the hope of reading the book of God's election. The names of those who have been elected have not been revealed. The sinner's duty is to obey the call of the gospel, to receive Christ as He is freely offered in the Bible – in such words as these: "Look unto Me, and be ye saved, all the ends of the earth: for I am God, and there is none else" (Is 45:22). Such statements do not imply that the sinner has the ability to look to Christ apart from the work of the Holy Spirit making him able and willing to do so. They are part of the teaching of God's Word, in spite of the fact that we cannot reconcile the fact of human inability with the further fact of human responsibility.
Again sinners may ask, Am I one of those for whom Christ died? This is another unanswerable question. What the Word of God declares is that there is an appointed Saviour, One who is suited to the needs of every sinner in this world, even if a particular individual is tempted to believe that his or her needs are absolutely unique, somehow leaving him or her beyond the reach of salvation. Such ideas (as the uniqueness of one's spiritual condition) are temptations from the devil, and we must remember that he is going about "as a roaring lion . . . seeking whom he may devour" (1 Pet 5:8).
Satan well knows that he is in danger of losing from his kingdom sinners who have become concerned about their souls, and one of his ploys is to deflect them from Christ and entangle them in questions to which no answer has been revealed. "The secret things belong unto the Lord our God: but those things which are revealed belong unto us and to our children for ever" (Dt 29:29). And it has been revealed that we are under obligation to look to Christ for salvation, to receive the testimony of Scripture that He is a suitable Saviour, appointed by the Father – that He has said, "Him that cometh to Me I will in no wise cast out" (Jn 6:37). And how can individuals recognise that they are among the elect and that Christ died for them? Only in the light of evidence that they have begun to lead a new life.
Ralph Erskine, another noted Scottish minister, was exhorting sinners in Stirling, in 1743, to come to Christ. He told them:
While you are out of Christ, you are but destroying yourselves, instead of building up yourselves in the most holy faith; fighting against God, instead of fighting the good fight of faith. O come, sirs, come to Christ, and do not remain enemies to God and to your own salvation! A whole Trinity calls you to be reconciled to God. The Father says, Come; it is His commandment that you believe in the name of His Son. The Son says, Come; whosoever will, let him come. The Holy Ghost says, Come; 'the Spirit and the bride say, Come'. Your circumstances say, Come; you are guilty; come and get righteousness. You are weak; O come and get strength. Your needs say, Come; come and get them all supplied. Your heart plagues say, Come and get healing. Death says, Come, that the sting of death may be taken away. Judgement says, Come, that you may be able to stand in judgement. Eternity says, Come, that you may be happy to all eternity. Come and build upon the sure foundation; come and fight the good fight of faith, and lay hold on eternal life. [Works, Free Presbyterian Publications reprint, 1991, vol 3, p 579. This six-volume set is again available, having been reprinted last year. Erskine also uses an illustration, similar to Boston's, about the doctor for a regiment. Probably illustrations like this were common among such ministers at that time.]
May we look to the Lord Jesus as the appointed Redeemer, a suitable Saviour, particularly in the light of such exhortations as these!
Rev Kenneth D Macleod
[This was the editorial for the March 2015 edition of the Free Presbyterian Magazine. The whole magazine can be viewed here.]