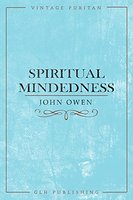 [This is the sixth set of questions based on John Owen's treatise on Spiritual Mindedness. This set is based on Chapter 11, accessible at this link.]
Q21 Where is the source of spiritual mindedness in the soul?
It is in the affections.
Q22 What is the uniqueness of the affections?
Affections are the only power of the soul in which we may give away ourselves from ourselves and become another's. Whatever we set the affections upon has our all. It is like the helm of a ship that turns it about.
Q23 What is the relationship between sincerity and the affections?
Sincerity shows that our affections are real and that they are truly engaged with whatever we do.
Q24 What is the importance of the prevailing inclination of the affections?
The prevailing inclination of a person's affections is their cutting edge (Prov 27:17), this is what makes him sharp in all that he does. If it is towards heaven, he will prevail in spiritual things.
Q25 How do the affections come to be set upon spiritual things at first?
By nature our affections are depraved and corrupted, they will not be set upon spiritual things but on earthly things. They must be entirely changed and renewed in their nature in order to be spiritual.
Q26 How are the affections spiritually engaged in worship?
They are not engaged spiritually with the outward form or action but faith and love are stirred as they go out to Christ in the duties of worship and therefore they delight in them.
Q27 How does faith hold the affections in spiritual things?
Faith leads the soul continually into spiritual things because it discerns them by grace.
Q28 What hinders the growth of spiritual affections?
Growth in spiritual affections can be very slow as well as difficult to discern because sin hinders them from growing.
Q29 What makes spiritual affections decay?
Temptation and trials may cloud these affections and attention to the things of this world cause them to  decay.
Q30 Where can we find the true pattern of spiritual affections?
The Lord Jesus Christ in the affections of his holy soul is the pattern to which our spiritual affections ought to be conformed (Phil 2:5). We must contemplate his perfect affections in order to grow in spiritual mindedness and be changed into the same image (2 Cor 3:18).
Matthew A Vogan