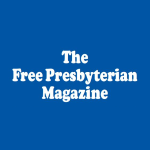 All 12 of the first issues of the Free Presbyterian Magazine (1896 to 1897) are now available in searchable PDF format at this page. The main themes continue throughout:
Explanation of the pernicious nature and baneful consequences of the Declaratory Act. This remains solemnly important, for to this day neither the Free Church of Scotland nor the Free Church Continuing have acknowledged the necessity for the Free Presbyterian Church of Scotland to be formed and to continue.
Edifying sermons. We mention just a few of special note. The June 1896 sermon is by Rev Donald MacDonald, Shieldaig, the only minister to join Rev D MacFarlane in leaving the Declaratory Act Free Church in 1893, on the Good Samaritan. The August 1896 sermon is by Rev Neil Cameron, Glasgow, on the hedges of the Church, from Psalm 80:12,13. March 1897 has Rev James Sinclair, John Knox's Tabernacle in Glasgow, on the love of God, from John 3:16. That gospel love is eternal, infinite and unchangeable, undeserved and unmerited, saving and sovereign.  "God, in His eternal love, gave His beloved Son, that He might die, and open up a way of escape and salvation for even such as you. Now, in the day of your merciful visitation, seek grace to believe in Christ, lest you perish for ever."
Experimental pieces opening up the trials and triumphs of grace in the soul. A series from the eminent William Sinclair of Wick's Diary, beginning with a biographical sketch in the August 1896 issue, is especially profitable. Advice he gave to a relative indicates the spiritual tone manifest throughout: "Try and find a sound minister. The more broken-hearted he is the better." A record is given of Rev D MacDonald's concluding remarks at a fellowship meeting, during which he said: "My last mark of the children of the new birth is that they fear. They often speak as follows: 'Ah! I am so unlike Christ, my Beloved, my fear is that I am so filthy and polluted with sin that I cannot inherit the kingdom.' You may yet be enabled to say, 'My Beloved is mine, and I am His.'" How different to the presumption that parades up and down as if it were true assurance in our own evil days!
Articles on controversial and practical issues, such as the Establishment Principle, Infant Baptism, Cremation (aptly labelled "up-to-date heathenism"), Excessive Adornment in Dress and Choirs in worship.
Notes and comments in each issue, against Romanism and Sabbath-breaking, doctrinal and practical declension in Scottish Presbyterianism, backsliding in the nation and so on.
Rev Keith M Watkins