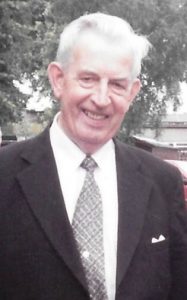 Ian Munro MacLeod, who was born on 20 November 1923, was brought up in a Free Presbyterian home in the village of Hill of Fearn in Easter Ross, where, at that time, his father was a shoemaker. Ian was the eldest of the family. He and his five sisters had as their maternal grandfather the late godly John Munro (1860-1950), after whom Ian was named and to whom he was much attached. John Munro, who had been an elder in the Lochbroom congregation and was a sweet leader of the praise of God's house, lived for the last ten years of his life with the MacLeod family when they resided near Kirkhill in Inverness-shire.
After leaving Fearn Public School, where he had been dux, Ian began his apprenticeship as a joiner. However in July 1942, at the age of 18, he was called up to serve in the War. Although he saw action in North Africa and in the Italian Campaign, and was mentioned in despatches, he seldom referred to his war service. His release certificate stated that he was "always cheerful and willing – completely sober, honest and trustworthy". Those qualities characterised him to the end of his days.
After the war he served in the police force, in the Sutherland Constabulary. In 1953 he married Miss Nan MacKenzie, Lochcarron, and they were blessed with a family of three sons and a daughter. Their home in Golspie, and later in Dornoch and Dingwall, was renowned for its Christian hospitality. During his 12-year stay in Dornoch he was the Civil Defence Officer for Sutherland, having been seconded from the police force for this purpose.
It was at the Dornoch communion of June 1961 that Ian MacLeod was received as a member in full communion in the Dornoch and Rogart joint congregation, which at that time had no minister. He was not a man to speak freely about his spiritual experiences, but we have reason to believe that the ministry of the late Rev Donald Malcolm MacLeod, among others, was blessed to him in bringing him from a state of nature into a state of grace and to rest upon Christ alone for salvation.
He was ordained to the office of the eldership in the congregation on Wednesday, 25 July 1962, and was appointed Session Clerk on the same day. The congregation now had the Rev Alexander McPherson as its pastor, and the bond that existed between Mr MacLeod and his minister lasted for the remainder of their lives, Mr McPherson pre-deceasing him by three months. His position in the Civil Defence allowed him free weekends, and this opened the way for him to give further valuable assistance to the cause of Christ by conducting services in various congregations as requested.
Although he was often in the public eye in his work and as an active office-bearer in the Church, Ian MacLeod was a modest man. In fact he set a high value upon the grace of humility, as part of a letter he wrote in 1963 to one of his sisters indicates: "I'm re-reading M'Cheyne just now and find much in it that is profitable which I appear to have missed before. If only we possessed a spark of his spirituality – which after all, at its best, showed but a mere reflection of his Master's walk and conversation while in His state of humiliation – well would it be for us. But He bids us, 'Learn of Me, for I am meek and lowly in heart'."
When the Civil Defence was disbanded in 1968, Mr MacLeod returned to the police force and served in Easter Ross and Dingwall. After he moved to Dingwall he was promoted to the rank of Police Inspector and headed the newly-formed Community Involvement Department. He was admitted to the eldership of the Dingwall and Beauly Congregation in April 1972, and served as the Clerk of the Kirk Session from 1976 until the last year of his life. Mr MacLeod ever deemed it a great privilege to have been under the ministry of the late Rev D A Macfarlane in Dingwall.
After retiring from the Police Force, he was a housing officer with Ross and Cromarty District Council for 14 years. In later years, the Dornoch and Bonar congregation, and also the Halkirk and Thurso congregation, had much help from him in his capacity as both an assessor elder and the clerk of their Kirk Sessions and Deacons' Courts. He also served on the Foreign Missions Committee and the Religion and Morals Committee of the Church. Ian MacLeod was a gifted precentor and often led the singing of God's praise in his own congregation and at communion services in other congregations.
It was in February 1989 that profound sorrow entered his family when he tragically lost his eldest son Alistair. In his painful bereavement he was greatly upheld by the application of the truths of Scripture to his soul, and we recollect him saying that he was helped also by an anecdote related by the late Rev Lachlan MacLeod about the renowned Rev Robert Finlayson of Lochs and Helmsdale. When Mr Finlayson lost his two teenage sons by drowning, a friend, quoting from Romans 8:28, said to him that all things work together for good to them that love God. Mr Finlayson replied, "I could hardly believe it; but because God has said it in His Word, I do believe it." Ian MacLeod knew by blessed experience what it was to receive consolation from the Word of God, and he could say with the Psalmist:
"This word of Thine my comfort is
in mine affliction;
For in my straits I am revived
by this Thy word alone". (Ps 119:50, metrical)
Three months later Mr MacLeod was saddened by the schism in the Free Presbyterian Church, when several ministers and many people left the Church to form the Associated Presbyterian Churches. He felt very much the departure of several people from the congregation itself and from the ministry of their faithful pastor, the late Rev D B Macleod. Following his minister's translation to Edinburgh, Ian MacLeod had an extra weight of responsibility because the congregation was now pastorless. That burden was increased when Mr Roderick MacDonald, his fellow-elder and good friend who lived next door, passed away in 1991, but under all his burdens he was upheld by the right hand of the Most High.
It was a great encouragement to him to be joined in the Kirk Session by Mr Alastair Gillies, who had moved north to Dingwall in 1992. They not only esteemed one another highly, but were both conscientious and quietly efficient in harmoniously carrying out together the duties of their office. He keenly felt Mr Gillies's death in September 1999. It was following that sad event that Mr MacLeod was also appointed as Clerk of the Deacon's Court.
His own health was a matter for concern that year, and he had to be sent to Glasgow in April to have major surgery. Mercifully and, we believe, in answer to the prayers of the Lord's people, he had a wonderful recovery and was enabled even to conduct services for a limited period. However his health began to fail again and he was confined to his home. His last appearance in the house of God was at the induction of Mr A MacLean to the eldership of the congregation on 17 December 2000. It was a matter of the greatest satisfaction to himself and others that he was given strength to carry out his duties as clerk of the Kirk Session on that last occasion.
It was with regret that the Kirk Session, in January 2001, accepted Mr MacLeod's resignation from being Clerk. In reply to his letter they said, "We not only note that you have served in this capacity for the long period of 24 years, but also record our deep appreciation of your faithful devotion to duty, your careful and conscientious discharge of your clerkship, and your candid and wise counsels in our meetings. Having obtained help of God you have continued to this day."
During his last illness, which he bore with great fortitude and very evident submission to the Divine will, he was lovingly nursed by his devoted wife. Some who visited him were deeply impressed by his calm resignation and the evidence of the fact that the latter end of the upright man is peace (Ps 37:37). When asked by a visiting medical attendant if he was getting rest, he replied, "I am resting in the Lord". Although very weak, his responses indicated that his hope was indeed in the Lord and in His Word. A few days before his end, he joined in the singing of these words:
"And on a rock he set my feet,
establishing my way."
When worship was being conducted at his bedside on the day before he died, although he was in a semi-conscious state, he suddenly joined in the singing of just one line:
"Thou my sure portion art alone."
Next morning, on Thursday, March 1, and in his 78th year, Ian MacLeod peacefully passed away to the rest which remains for the people of God. He went to be for ever with the One who, in this world, became the Rock of his salvation and his sure portion.
Actions, it is said, speak louder than words, and this was clearly seen in Ian MacLeod's life. He was an unassuming man – one of those whom he himself spoke of when he last conducted a service in the Dingwall congregation, addressing the people on Matthew 5:5, "Blessed are the meek". He was also a sympathetic and compassionate person whom we never heard speak ill of anyone, and who took a kindly, practical and prayerful interest in afflicted people in the congregation and beyond. As an office-bearer he was exemplary in carrying out his duties in an orderly and dignified manner, and he loyally and firmly adhered to the testimony of the Free Presbyterian Church, which he loved.
Ian MacLeod feared the Lord above many and was conscientious in following the exhortation: "See then that ye walk circumspectly, not as fools, but as wise, redeeming the time, because the days are evil" (Ephesians 5:15, 16). In speaking on one occasion about the need for carefulness in one's daily walk he used a telling illustration: during the war, when soldiers had to advance across a minefield, a soldier equipped for the purpose would find a safe route through the minefield and mark it by a line. The other soldiers would then follow the line and have a safe passage through. "Keep to the line", he exhorted, referring to the duty of walking in the narrow way of holiness without turning aside into any dangerous path, "keep to the line."
As we mourn his passing, we deeply sympathise with his sorrowing widow and family, and also his five sisters. May his God be their God and guide, so that they may say with the godly: "This God is our God for ever and ever: He will be our guide even unto death" (Ps 48:14).
NMR