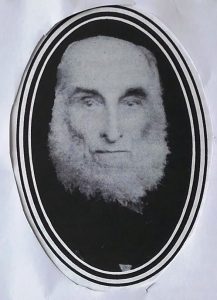 WILLIAM MACBETH was born at Kenmore, in the parish of Applecross, in the year 1835. His father, Farquhar MacBeth, was an eminent Christian, and his mother was considered by all who knew her, a gracious woman. His parents removed from Kenmore to Callakille, in the same parish, when the subject of this obituary was seven years of age, so that William MacBeth lived all his lifetime in the same parish.
He received a sound religious training in childhood and youth from his pious parents, and saw from day to day the best example of true godliness, but William gave evidence that human training and example will not change the heart or mind of the sinner. We are not able to say how the Lord dealt with him in bringing him to Himself, but on account of many statements we heard from him while speaking to the question, we conclude that he passed through an experience similar to that of the children of Israel at Mount Sinai.
One day a man was called to speak to the question, who began by saying that the first thing the sinner felt was the love of God. William whispered to the man who sat beside him: "Ah! it was the smooth comb that was used on this man's head to begin with." But that William drank deeply the consolations of the gospel of the grace of God was very evident. His deep knowledge of the corruption of man's nature, and of the power which Satan and unbelief exercise in the soul of the believer, caused his exercises to be very helpful to the Lord's people. Like the Apostle Paul, he could say: "Blessed be God, even the Father of our Lord Jesus Christ, the Father of mercies, and the God of all comfort; who comforteth us in all our tribulation, that we may be able to comfort them which are in any trouble, by the comfort wherewith we ourselves are comforted of God" (2 Corinthians 1: 3,4). Many of the Lord's people felt often that William MacBeth's exercises, whether in prayer or speaking, were truly a means of solving their doubts and of comforting their souls.
In reading the book of Job, he came to the confession Job made to the Lord: "Who is he that hideth counsel without knowledge?. Therefore have I uttered that I understood not; things too wonderful for me, which I knew not" (Job 42:3).
This passage of Scripture threw William into a labyrinth of painful doubt about the innerancy of that portion of the Bible. He could not see how Job spoke the truth if he did not understand himself the things he had uttered. He made up his mind to go to see the late Mr Duncan Macrae, Letterfern, who was an eminent Christian, and a man of profound understanding in spiritual matters. After he had been awhile in Duncan's house, he said to him: "How am I to understand the words expressed by Job: 'I uttered that I understood not; things too wonderful for me, which I knew not'?" Duncan answered him: "Do you not utter things yourself which you do not understand." William answered: "I don't know." "Do you speak about sin?" Duncan said. "Yes," replied William. "What do you know about sin?" he said. " Do you speak about grace?" he asked. William said: "Yes." "What do you know about grace?" Duncan queried. So William's difficulties vanished, or as he said himself, " He caused me by a few words to feel that I was myself acting daily like Job." William's admiration for Duncan Macrae continued to the end of his natural life in this world, although his friend predeceased him by more than twenty years.
It could be said of William that he lived in accordance with our Lord's injunction to His disciples: "Be of good cheer, I have overcome the world." He kept a very cheerful countenance in the midst of the many trials which fell to his lot in the world. One day he met the Rev Alexander MacColl of Lochalsh, who said to him: "You seem to be always cheerful, William." He replied: "It would be a very unwise thing for a man to present his empty vessel to one who could put nothing into it." Mr MacColl said: "That is truthfully said."
But William had his dark hours. We were at the Applecross communion one year, and we noticed that he was under a very dark cloud. He lived in the same house with us. We asked him several times to engage in prayer, but he always refused. As he told us that he had made a vow that he would never refuse absolutely to pray when asked to do so, and urged us not to press him too hard when we saw it was difficult for him, we allowed him. At last we made up our mind that we would not take refusal. So we told him to ask a blessing on food we were to partake of, and told him that he was not to get off that time. He began to utter a word now and again, weeping as he went on. He stopped, and then expressed himself in the following words: "Why should we be like this? Do we not read that when Thou wast in the world, lepers came to Thee and were cleansed, lame men and maimed men came to Thee and Thou didst cure them, so that they could walk like other men. Yes, and the man that was rotting in the grave Thou hadst only to speak one word to him, and he was the next day walking on the road along with his neighbours, and why should we be like this?" So dear William's bonds were loosed by thinking of the power and mercy of his Lord and Saviour.
The first time we saw him was at the Shieldaig communion in September of 1893. He had not separated then from the party who had changed the Creed of the Free Church. There were a few of the men who came there on Friday in the same position ecclesiastically with William, but it was decided before the meeting began that the men should be called that day as they used to be without making any distinction. This was done owing to the fact that the ministers, who were called the Constitutional party in the Church, advised the men to remain as they were until the following General Assembly, and that steps would be taken then to separate from the Rainy party in that Church. William MacBeth was the last man called to speak to the question. Having heard about him before then, we were anxious to hear him speak. He rose up at once. He looked around on the people, and said: "You will say to me, Is this not a very dark day? I answer, Yes. You will then say, What shall I do then? I will tell you what you should do; keep your eye upon God's word and look to Him for guidance, and should the prospect before you be as dark as if you had to look through the bottom of a boiler, the Lord and His word will keep you in the right path." We concluded at once that whoever would go into crooked ways, William would certainly be guided in the way that he should go. Rev D Macdonald had left the meeting before William spoke. When we went into the manse we said to him: "It is a pity you did not hear William MacBeth speak." "Why?" he asked. We then told him what he had said. Mr Macdonald's face brightened up and he said: "Poor man, he will not remain long where he is." So it happened. When he went home he sent the book for collecting sustentation to the minister and a message along with it to the effect that he could no longer collect sustentation money for that Church. William did not continue long his connection with the Declaratory Act Church, but left it next spring. He continued to adhere faithfully to the Free Presbyterian Church till his course here came to an end.
He came into the house of John Stewart, elder, Lochcarron, on his way home on the Monday of a communion there. After dinner, one of the ministers assisting there at that time, gave out the last three verses of the 72nd Psalm:
His name for ever shall endure;
Last like the sun it shall :
Men shall be bless'd in him, and bless'd
All nations shall him call.
Now blessed be the Lord our God,
The God of Israel,
For He alone doth wondrous works
In glory that excel.
And blessed be His glorious name
To all eternity:
The whole earth let His glory fill.
Amen, so let it be.
After these verses were sung, William sat motionless with the palms of his two hands upon his two knees. He continued some time in that position, quite unconscious of his surroundings. At last one of the ministers said to him: "You would add your own amen to that, William." He lifted up his head and said, "Wouldn't I, man?". It was true of him that the Lord Jesus Christ, and His Word, and cause and people in the world were precious to him. He could truly say: "Entreat me not to leave thee, or to return from following after thee: for whither thou goest, I will go; and where thou lodgest, I will lodge: thy people shall be my people, and thy God, my God" (Ruth 1:16).
William was a very humble man. He tried to persuade us, if we should be spared after he should be taken away, that we should not write anything about him; but we did not promise him that we would not. He often told us about two eminent men, who made very free the one to the other as regards their spiritual exercises and condition. The one said to the other one day as they were walking together: "Do you know that I think it was because the Church had lost the spirit of discernment that caused that we were received into membership?" William said: "I am of the same opinion concerning the two of us." His humility was such that he felt himself so far behind in everything he put his hand to about the worship of God, that he would not take offence for being told that others could do things better than he could. As an example of this, he was asked to sing in a certain place. He said: " I cannot sing properly." The minister who asked him said, "As there is no other one to sing, you better not refuse." "Very well," he said, rising quite cheerfully to sing.
He was a man who was possessed of uncommon tact. He spoke on a Sabbath day in the presence of one whom he loved and admired, but he knew that it would not be an easy matter to get his friend to pray at the conclusion of his exercise. When William had finished, he said to his friend: "Now, if you have agreed with what you have heard today, rise and pray, but if you did not agree with it, don't rise." Of course, the man got up at once and prayed. On another occasion he had to preside at a prayer meeting, because another worthy man refused absolutely to do it. After singing verses of a psalm, William asked the man who refused to preside, to pray. The man desired him to ask another: "No," he said, "if you will not make a gaffer, you must make a labourer."
William had a wife who was in every sense an helpmeet for him. The love and harmony that existed between them was really admirable. One Sabbath day of a communion season at Gairloch, he overtook her on the road after leaving the Leaba, and said to her: "Well, Ann, what kind of a day had you?" She answered: "Well, William, I have got something from the Lord today." " How pleased I am that you got that, Ann, O, how pleased I am that you got it!" She predeceased him several years ago.
Of all the ministers he heard in his day, Dr Kennedy, late of Dingwall, was his favourite. He often referred to the Friday evening of a communion season at Kinlochewe as an outstanding landmark in his experience. The Doctor came that day purposely to hear the men speak to the question. He was prevailed with to preach in the evening. He took as his text: "Many are the afflictions of the righteous, but the Lord delivereth him out of them all" (Psalm 34:19). The Doctor spoke first of the righteous; secondly, of the afflictions of the righteous; and lastly, of the Almighty Deliverer of the righteous. The discourse delivered by Dr Kennedy that evening remained fresh on William's mind to the last. Rev Alexander MacColl, late of Lochalsh, was a great favourite of William. He very often spoke of these two faithful servants of Christ. He is with them now in everlasting joy and gladness whither no sorrow nor sighing can ever enter.
Although his health was not very robust during the last few years of his life, he was able to attend to his duties as a missionary till the last year. He was also able to attend communion seasons in most of the surrounding congregations. At such solemn seasons, his presence and exercises added much to the happiness and comforts of the Lord's people. The happiness he often enjoyed inwardly could be discerned in the expression of his beautiful countenance. We mourn for our great loss; but we rejoice in his unspeakable gain; for he is now with Christ and the noble band who sing the praises of the Redeemer on Mount Zion above. For a few months before his end came, he was unable to come any distance from his house; but was able to rise every day until a few days before he departed this life. He passed peacefully away from this world of sorrow and sighing at the end of September, 1917.
We desire to express our sincere sympathy with his two daughters, and all who feel that an eminent Christian has been transferred from the Church on earth to the Church in glory. An Israelite, indeed, in whom there was no guile, departed the day William MacBeth left this vale of tears. May the Lord raise up Jacob when he is small!
Neil Cameron